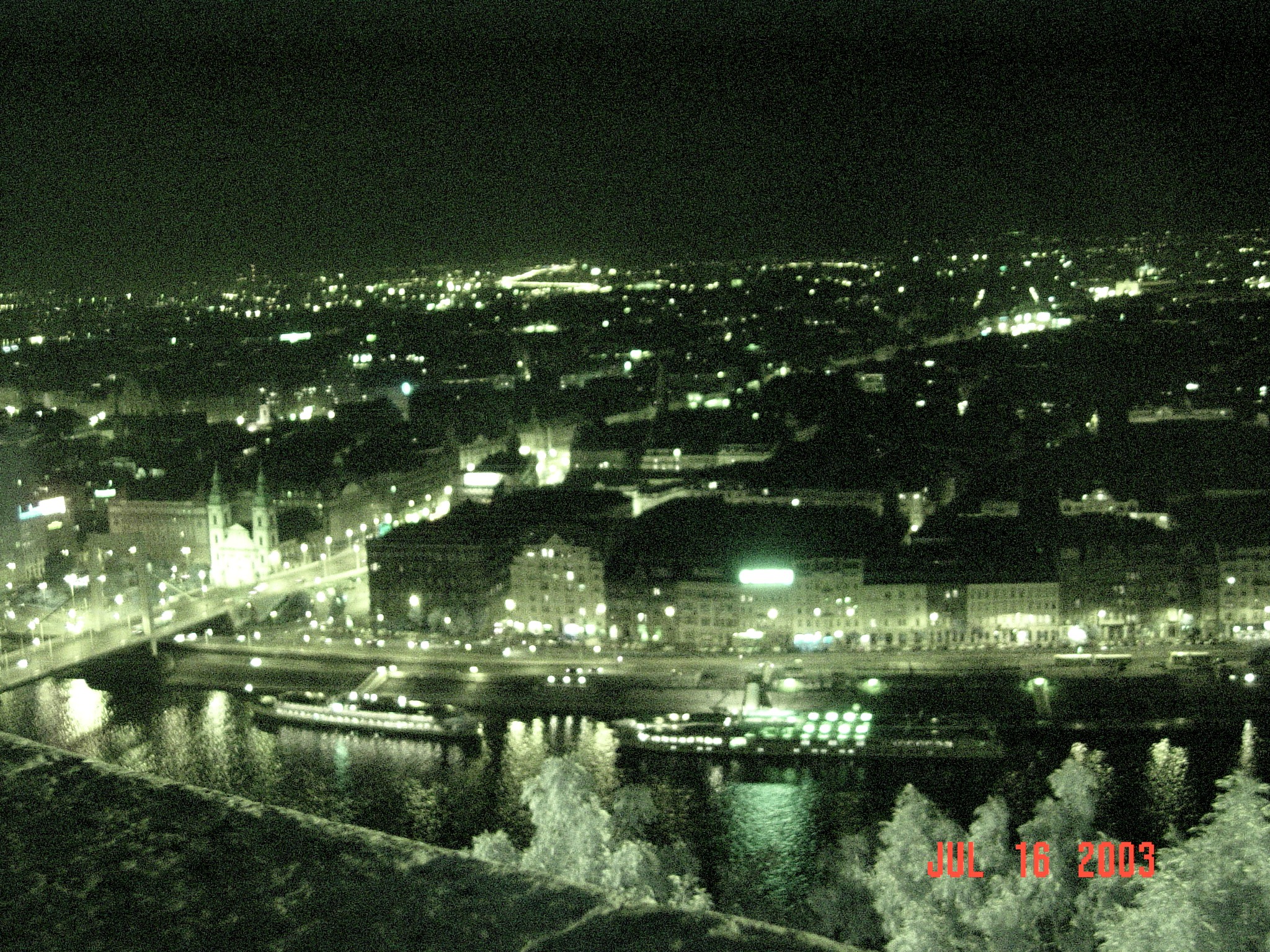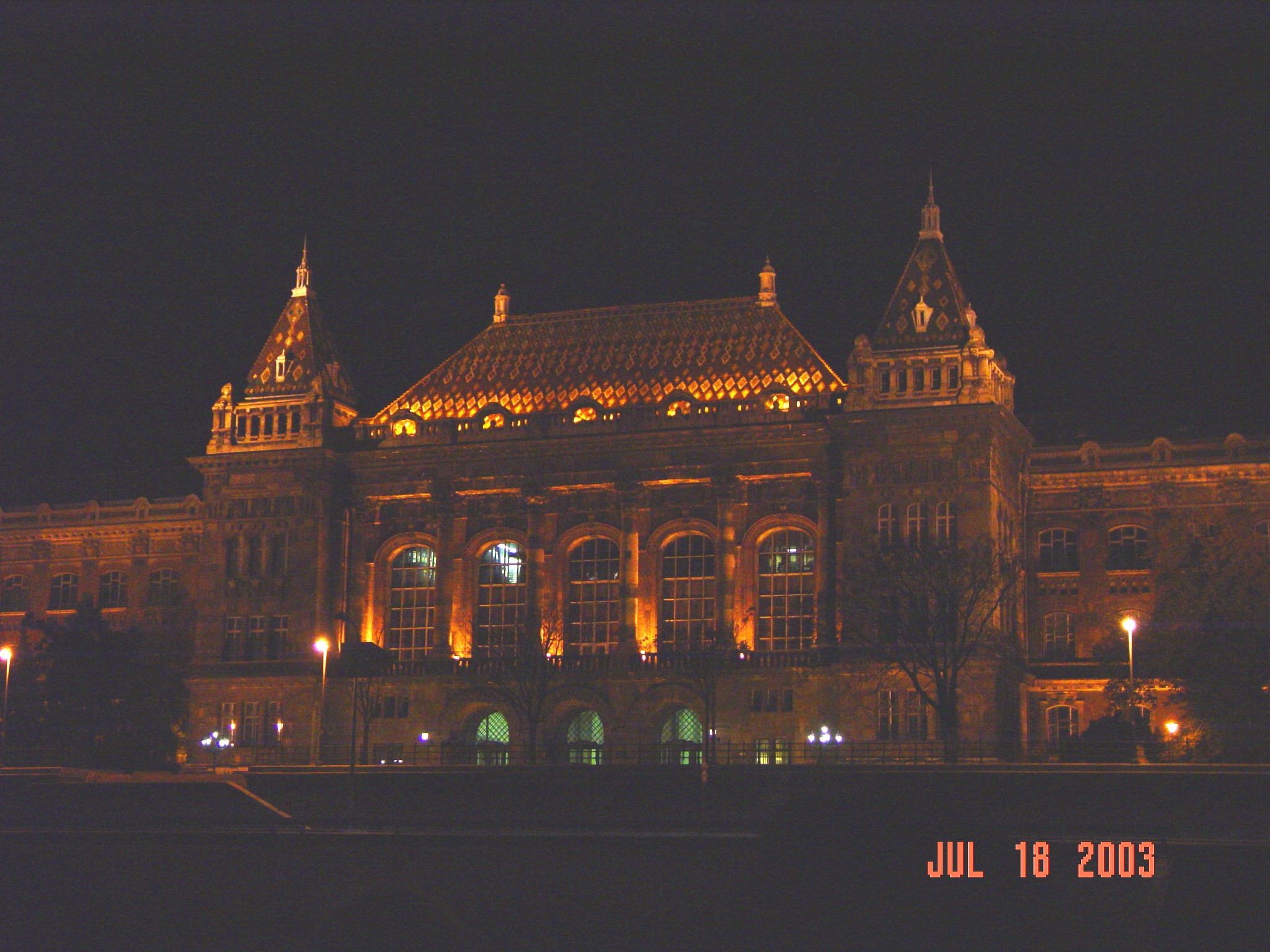 Budapest by Night



Ready to leave Kennedy Airport .


Ah, those luggages!

In Budapest -- ready to dance again!.

In Budapest -- on Heros' Square.

On the way to Erzsebet Restaurant to dance - what else!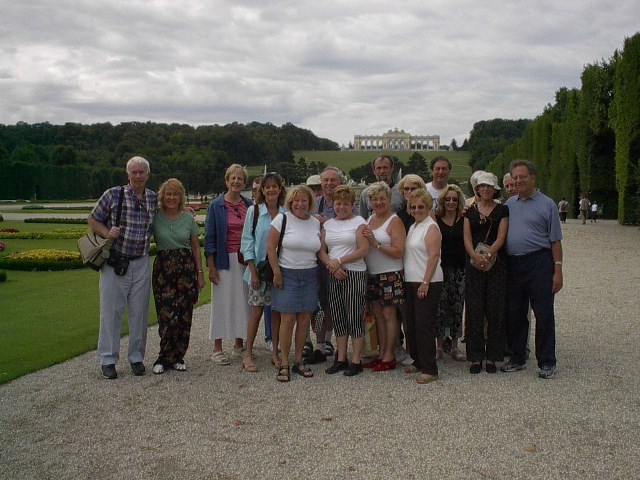 At Schoenbrunn - it was almost as hot as in New York! - where is the rest of the "gang?".

Gypsy music to dine and dance by, yes! -- but that a band welcomed us and champagne was served at midnight on top of the Citadel -- that was a real surprise -- what a romantic night!

At the Grill Party, we baked our own trout and we went on boat rides on the Tisza nature preserve -- what unique wild life!
| | |
| --- | --- |
| | Ready for the Annaball in Balatonfured, Hungary. |
Riding in 19th Century Style!................................................. At the Anna Ball
For more pictures, see also, grace of Jaques, Jaques' Web page
THIS WAS OUR ITINERARY
1st day / A group of us took a mini coach to Kennedy and thanks to the wine and cheese served by Esther, we were "in the mood" by the time we arrived at the airport!
2nd day / Early afternoon, we arrived in Budapest. After the "Welcome drink," we relaxed a bit at the magnificent Grand Hotel of Margit Island and proceeded to dinner at "Sir Lancelot" restaurant featuring some sworded medieval knights. Some of our guests were knighted too. Congratulations Sir Joseph and Sir John! Then followed our "Budapest by night" city tour where champagne and gypsy band were awaiting us by the Citadell on top of Gellert mountain.
3rd day / In the morning, we enjoyed an extended city tour -- visiting the magnificent Parliament and other sights. Then, we were treated by a private performance - just for our group! - at the Operetta Theater. At Castle Hill, we even saw the statue of the Odescalchi pope! And the evening, we danced it away.
4th day / In the morning, some went shopping, some joined our doctor friends on a visit to a Hungarian medical facility where we saw the most up-to-date technology at work. At night, we dined on shipbuilders' island and danced to gypsy music. To top it all, after dinner, we cruised the Danube river and marveled the beauty of Budapest by night. Among other things, the brand new National Theater.
5th day / In the morning, our guide, Martha, took us on a guided walking tour of the city- center: Vaci utca, Vorosmarthy square, etc., with a stop at the famous Gerbeaud Coffee House.
6th day / With our private coach, we traveled to Eger -- via the Matra mountains -- one of Hungary's prettiest medieval towns. On the way, we visited Godollo and Sissi's (Franz Joseph's wife) favorite castle a little Versaille. In the mountains, at one point the road was closed because of a car race. To avoid sitting there for hours, our clever driver made a hair-curling U-turn on the narrow mountain road. In Eger, we were greeted with a "Welcome drink," then proceeded on a guided walking tour. If only it would have been cooler! During dinner in the cave restaurant, however, we were actually freezing. Down there, the temperature between summer and winter is almost the same. After dinner, wine tasting and a tour of the wine cellar, we were ready to dance again. This warmed us up too!
7th day / What a wonderful day it was on the Tisza lake. With small motor boat, we were driven to the wild nature preserve and observed the unique wildlife of the tributaries of the Tisza river. If you even think about harming any of the endangered species, in jail you go! Then, off we went to Szilvasvarad - home of the famous Lippizan horses. In the mountains, we had a grill party where each of us baked our own trout by open fire. Good thing they showed us how to eat what we baked! Then, we rode a lovely open mountain-train up to the magnificent waterfalls. On the way down, horse drawn carriages were awaiting us and took us to the horse farm. Back in Eger, we had dinner with a lively folklore program.
8th day / We spent the day traveling to Prague with stops at Bratislava and Brno. Upon arrival in Prague, we proceeded to a famous beer hall - a former monastery - for dinner and dancing.
9th day / After an extended city tour we relaxed a bit - we rarely did that on this tour! and completed the day with dinner an a Czech folklore program.
10th day / We traveled to Vienna and stayed at the royal Schoenbrunn Hotel. At night, we were treated to dinner, an operetta revue and dancing at the elegant Rathhauskeller.
11th day / After an extended city tour of Vienna and Schonbrunn, we spent some time eating Viennese pastries and proceeded on to Balatonfured by the Lake Balaton in Hungary. On the way, in Gyor -- a beautiful provincial town -- we stopped for dinner.
12th day / Some of us spent the day swimming and sunbathing, while others, went to Herend, home of the exquisite Herend porcellan factory. By 6 PM we were all dolled up ready for the famous Anna Ball. Guess what? A private street choo-choo train came to pick us up to bring us to the ball procession that proceeded the ball. As we entered the ball, each person was individually greated by the ball committee and each lady received a porcellain heart -- made from Herend porcellain! with a number on it. After dinner, there was a beautiful performance of the Hungarian Palotas (form of a quadrille) as well as the Viennese waltz. At midnight, a ball queen was chosen by secret ballot by all ball attendees. The ballot represented the number that appeared on the Herend heart worn by each lady.
13th day / Our dream vacation ended as we boarded our coach to return to Budapest International Airport and a flight back to New York.
Some comments from our guests:
"Thank you for giving us the best trip of our lives." "When is the next trip?" "It was simply wonderful." "We loved every minute of it." "If someone did not have a good time on this trip, he/she does not know how to have a good time anywhere."