>

Dance Classes, parties, events
Summer/Fall 2023

Dances and Dance Club Events
Please note:
Our new Web page is under construction and the links are no longer updated. We hope to migrate to the new Website soon.

What we do
With many years of teaching, choreographing, performing and lecturing experience, we offer:
private classes
arrange dance events and parties
offer dance-related lectures and dance demonstrations
visit different venues, provide dance music and get the audience on its feet with mixers, dance anecdotes and instructions
Spring into Summer Classes
Our Spring into Summer session was lots of fun. We even added an extra week (July 27th) and celebrated our talented instructor Mark's upcoming birthday

Happy Birthday Mark!
2023 Fall Dance Class Schedule
Date: Monday, October 2 (9 weeks)

Place: BOCES, Salt Point Center (SPC) gym, Boces Rd. POK.
Time: 6:00 pm Intermediate ballroom/Latin
7:00 pm Basic ballroom/Latin
8:00 pm Latin special

$82 pp. Call: Kate 486-4800 ex.6101 or 635-3341
To register online go to: Social Dance Classes (Ballroom, Latin, Swing)
https://registration.xenegrade.com/dcBoces/coursedisplay.cfm?schID=1256

Date: Tuesday, October 3(10 weeks)

Place: Arlington High School, Rt. 55, LaGrange
Time: 6:00 PM Basic ballroom/
7:00 PM Intermediate/advanced ballroom/Latin
8:00 PM Latin and swing special
To register online: ?https://arlingtonschools.revtrak.net/Continuing-Education/
Call: Linda 486-4860 ex32102 or 635-3341

Date: Thursday, October 5, 2023 (8 weeks)

Place: St. John's Ev. Lutheran Church Hall, 55 Wilbur Blvd.POK
Time: 6:00 Basic ballroom & Latin
7:00 PM Advanced ballroom & Latin
student choice of dance 8:00 PM High/Intermediate ballroom & Latin $75 pp
To register call 845 635-3341 or twinks.odes@gmail.com
WEDDING DANCE AND CHOREOGRAPHY
Wedding dance instruction and private lessons are for all levels of dancers from basic to advanced. For information and reservation, contact Esther 845 535-3341, twinks.odes@gmail.com Private Classes are ongoing all seasons - Contact Esther: 845 635-3341, twinks.odes@gmail.com

Guide to help you select the appropriate class.
Basic & low-intermediate ballroom, Latin and Swing are for you if you never danced before or took only one basic class. Also, if you did not dance for a while and want a refresher, you will be happy in this class. Dances covered include: waltz, foxtrot, rumba, merengue or any other dance students request;
Special dance class (swing, Latin, Tango, etc) concentrates on the selected dance and you will learn many different patterns in that dance
Intermediate ballroom, Latin and Swing. If you have taken several classes in the past, but don't consider yourself an advanced dancer, this class is for you.
Advanced ballroom, Latin and Swing. If you are well versed in several dances and go out dancing regularly, you will be conditioned to learn any of the advanced patterns we teach. During the session, we can either work on a variety of dances or select a special one that students select. The current class voted for the Rumba.
Class Fees varie depending on the sponsoring organization. For information, please contact Esther 845 635-3341; twinks.odes@gmail.com
Waiting for the class to start
Our Arlington High School class of Winter 2023.
Parties and Events
Dance parties and events are announced during classes and in monthly email memos.
DINNER DANCE  - Friday, August 11

                   
Place: Germania Club, Degarmo Rd. Poughkeepsie
Event: Biergarten dinner dance (depending on what you order $6 to $14)
Date: Friday, August 11
Time: 6pm to 10pm
Entrance Fee for non-member guests: $3
Band: Live music by Joe Unger band
Menu: Bratwurst Dinner, and other choices
Reservation: we reserve a table for our students, so if you wish to join us, please call, or email me (Esther) in a timely manner: 845 635-3341; twinks.odes@gmail.com


At the July 14th Dinner Dance
Our dancing friends at Germania's Annual Gala
April 1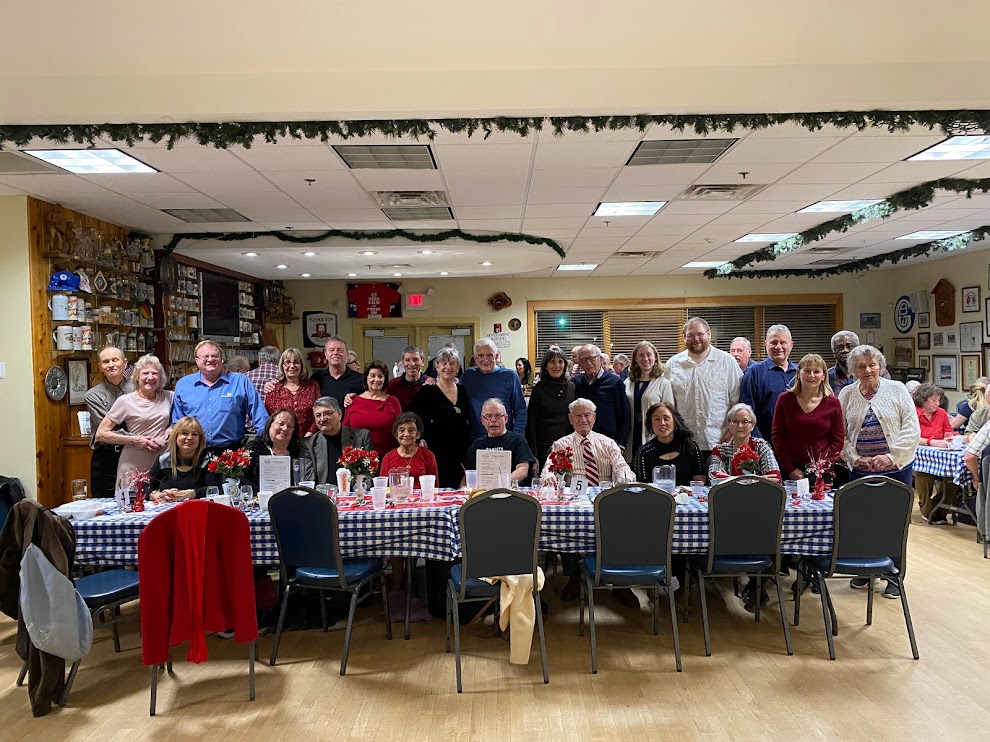 Celebrating Valentine Day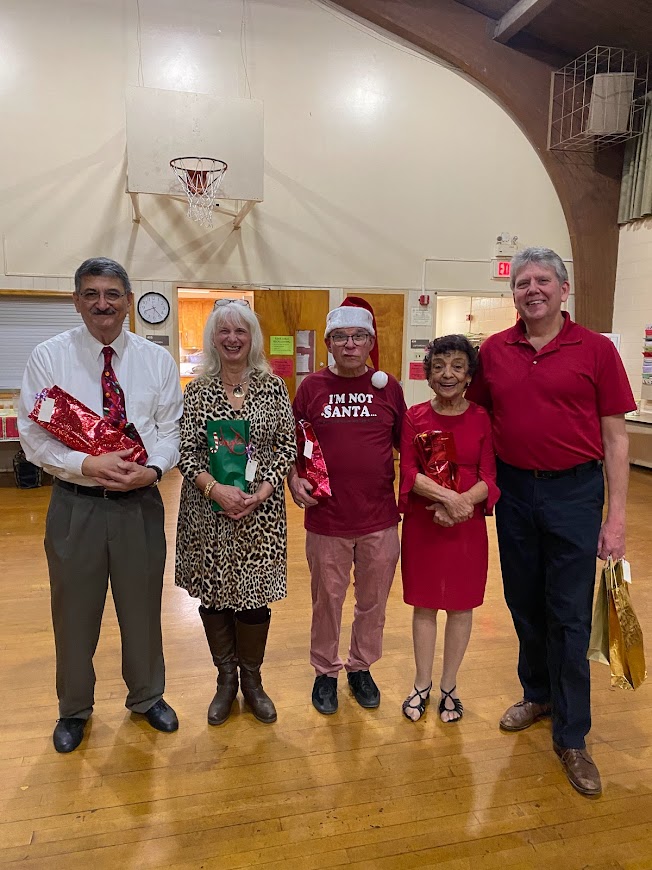 We love and honor our Dancing Angels and our wonderful teacher Mark
Fun stuff
For recent Fun Stuff, click: Recent fun fun fun
Formal affairs are always fun
Some of us at the Strauss ball in February
Ballroom and Latin Dance Club of the Hudson Valley
The Dance Club (BLDCHV) holds its monthly dance in various locations in Dutchess Country. Mostly dinner dances, tea dances, "Biergarten" All selected locations have hard-wood floors and lovely ambiance. Club members receive a discount at all affairs. Live music! Reservations required. Members and guests are most welcome!

For Dance party pictures, click BLDCHV and Gallery of Photos
Where can you go dancing?
Some Dutchess County private Clubs have ballroom/Latin dances at regular intervals. Dances are announced during classes and via emails.