Dance Events
For a printable 2019 Fall Dance Events Brochure, click: Dancing with E & B
For monthly memos on dance events, click Dance parties and events.
Dance Classes
Ballroom, Latin and special dance classes are held at various locations and are sponsored by various organizations. These include: Arlington High School; Marist College CLS (members only); Dutchess BOCES; Arlington Reformed Church,

Private classes and wedding choreography are available by appointment.

Dancing Makes you Smart - a demonstrated lecture is available. It summarises a study by Albert Einstein College of Medicine showing why social dancing wards off dementia and Alzheimers. For more information and to schedule the presentation, Click here: Dancing Makes you Smart,

For details, and a 2019 fall class schedule click Dance Classes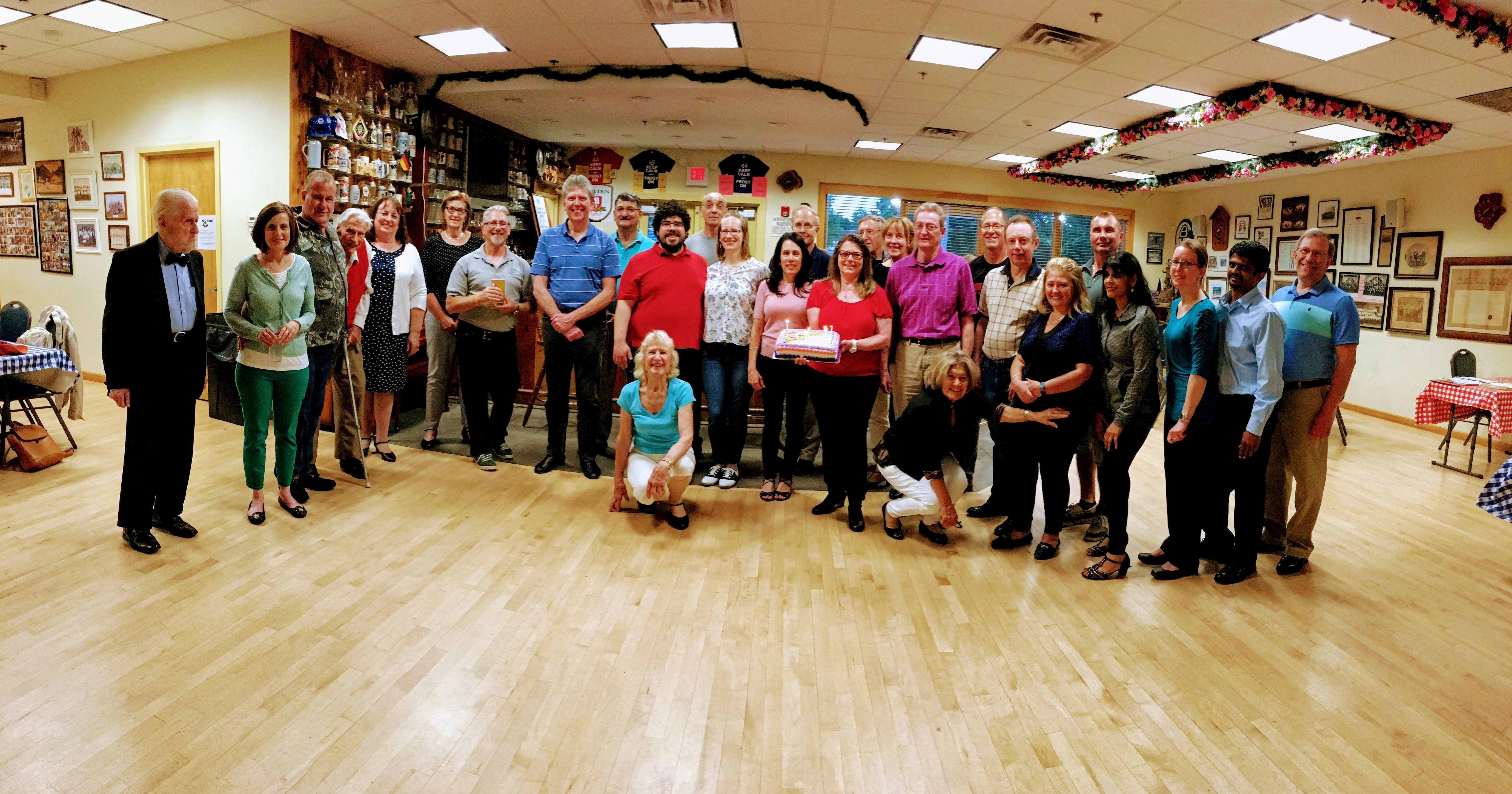 Some of the 2019 summer students of the swing class at Germania Hall celebrating Paulette's birthday

Some of the Arlington High School students of the spring 2019 class

Part of the ARC winter 2019 Class
Fun stuff
For recent Fun Stuff, click: Recent fun fun fun
At the International Dance Festival
On April 12, Mark and Esther are ready for the Hungarian Csárdás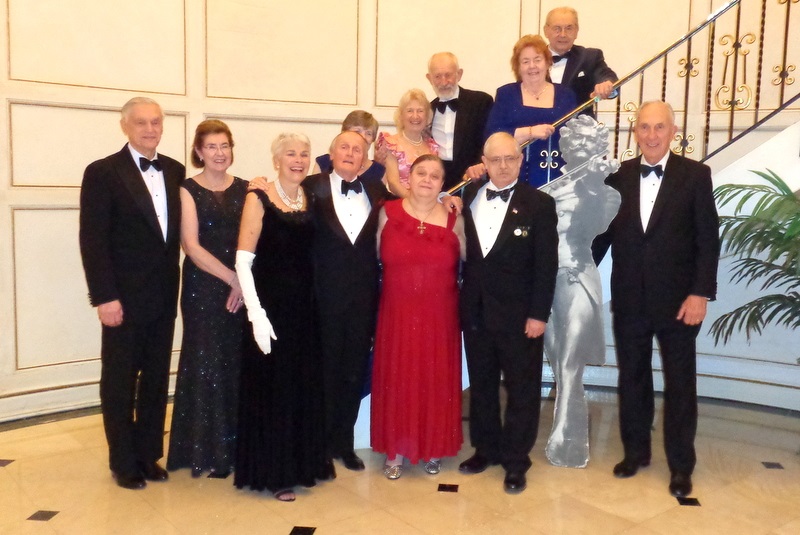 All the champagne before the 2019 Strauss ball on March 2nd brought out all the smiles.
We had fun at the 2019 Mardi Gras party on February 23rd.
Ballroom and Latin Dance Club of the Hudson Valley
The Dance Club (BLDCHV) holds its monthly dance in various Locations in Dutchess Country. Mostly dinner dances, tea dances, "Biergarten", wine tastings and an annual Dancing Under the Stars Gala. All selected locations have hard-wood floors and lovely ambiance. Club members receive a discount at all affairs. Live music! Reservations required. Members and guests are most welcome!

On July 22nd, BLDCHV Dance Club members and guests enjoyed the Club's annual Dancing Under the Stars Gala garden party. We tasted plenty of different wines and finished 1/2 a gallon of Igor's home-made vodka and a quart of Roxie's sour cherry delight. Between the main course and dessert, little Beethoven musical interlude entertained the guests four hands by Julie amd Esther! The 90 plus temperature did not dampen the spirit!
The late-comers did not make the photo of our 2019 Under the Stars Gala, but the rest did!
For more information and to view the 2019 Dance Club Schedule click BLDCHV
Wine-tasting "graduation" party!
On May 30th, we celebrated the "graduation classes" of winter and spring 2019. Was the food ever delicious and the friends so sweet. We also celebrated our Teachers and Dancing Angels who help us make our classes so successful. Thank you Mark, Dale, Paul, Charlie, Don, Angelo, we love you.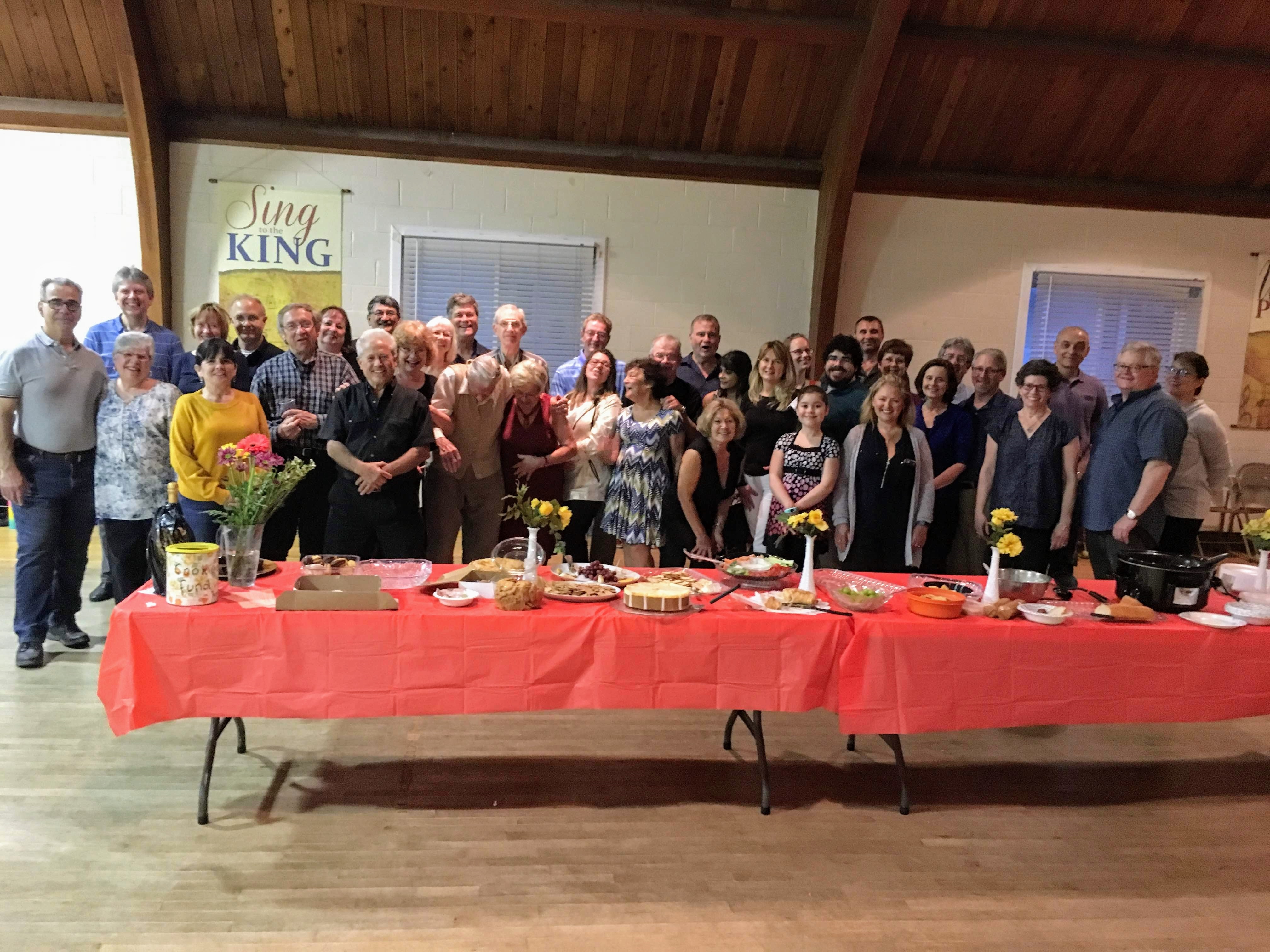 How wonderful to have so many dear dancing friends!

For more pictures, click BLDCHV and Gallery of Photos
Where can you go dancing?
Many area private Clubs have ballroom/Latin dances at regular intervals. To find out about them, click, BLDCHV and see the Dance Club schedule. Also click Dancing Opportunities for other venues.

<!